Silca Futura PRO High Security Key Machine (ILCO)—for All Keys—w/PROMO
Description
Special Holiday Promo: Free Codemaker and 3-Year Software Subscription is included at no extra charge with your purchase of a Silca Futura Edge, Futura Edge Plus, Or Futura Pro. Ends December 31, 2022
Codemaker (D748565ZW) FREE ($248.72 Value)
3-Year Software Subscription (D751459ZW) FREE ($522.32 Value)
---
The Next Generation, Ultimate Electronic Key Machine
Ilco is pleased to introduce the new and improved second generation Futura, the Futura Pro.
Futura Pro is a unique electronic key cutting machine combining two cutting stations in one user-friendly device. Ideal for
inexperienced key cutters thanks to the software-guided procedures, the light weight and small footprint also makes this
machine perfect for professional locksmiths offering roadside service.
Designed and engineered to decode and copy laser style high security, edge cut, dimple, and cruciform style keys all on one
amazing machine. Optional accessories expand its key cutting capabilities to include Tibbe® keys, Tubular keys, and more.
The original Futura electronic key cutting machine was the first machine on the market to combine two cutting stations in one user-friendly device. Now, the Futura Pro delivers even more including faster cutting cycles and a new tablet with upgraded electronics and software for faster response times on the new tablet.
Futura Pro is a powerful machine for the professional key cutters yet also ideal for the less experienced users with step-by-step prompts throughout the cutting processes.
Ultramodern in design and engineered to the highest quality standards; you can be assured of the most accurate, precise cutting of a variety of key styles on one innovative, amazing machine.
Improvements Include:
Faster cutting cycles thanks to a motor that delivers up to three times more power and cutters that reach 1,585 rpm for edge cut keys and 12,100 rpm for laser and dimple keys.
New carbide laser cutter
A new tablet together with upgraded electronics delivers both faster response times and all-around improvement in machine performance
Improved hardware—all screws are made of stainless steel for better wear and longer life
Improved connectivity—2 USB ports on the rear of the machine (one for charging the battery on the tablet and one for tethering the tablet directly to the machine. The tethering connection keeps the tablet and machine connected even when the Wi-Fi connection is lost or unstable.
The second USB port can also be used to connect the USB flash drive (supplied with the machine) to import code tables or machine software updates
New Software Features:
Shortcut function for vehicle key cutting code searches
Key cut preview now available for laser keys
Guided updating procedures (software leads the user step-by-step through the SW updating function)
Faster start-up thanks to the new upgraded electronics
Kreate-A-Key / Instacode Interface is included
Technical Data:
Motor:
24V DC
Power Provider:
90/264V - 50/60 Hz
Movements:
3 Axes (special bushings) driven by step motors on rectified roller guides
Prismatic Cutter:
TIN-coated HSS (Super Rapid Steel)
Cutter:
TIN-coated HSS (Super Rapid Steel)
Carriage Runs:
30 mm - 1.18" axis X
50 mm - 1.97" axis Y
27 mm - 1.06" axis Z
Dimensions:
Width: 318 mm - 12.52"
Depth: 413 mm - 16.26"
Height: 340 mm - 13.38" (with tablet and support: 520 mm - 20.47")
Mass:
44.09 lbs
Warranty:
2 years (machine and tablet)
Standard Parts/Accessories:
Edge Cutter:
Cutter 01F Futura Pro D747276ZB
Laser Cutter:
Cutter 01LW D747838ZB
Dimple Cutter:
Cutter 01D D742867ZB
Edge Cut Jaw:
Clamp 01V D942846ZR
Laser/Dimple Jaw:
01J (D943253ZR)
02J (D943254ZR)
19J (D744023ZB) (Ford, VW, Audi, Porsche)
Laser/Dimple Tracers:
01T (D942565ZR)
02T (D942866ZR)
Tip Stop (pos 4):
D946007ZR
USB PEN:
D947837ZR
Software Interface:
Instacode/Kreate-A-Key
OPTIONAL Parts/Accessories:
Jaw:
04J (D743256ZB) (BMW & Mercedes laser keys)
Clamps:
02V (D743271ZB) (Assa DP, CLIQ, D-12)
02R (D743275ZB) (Tubular keys)
03R (D743276ZB) (6-Cut Tibbe keys)
Cutters:
03L (D743672ZB) (Tubular keys)
06LW (D74784028) (Toyota/Lexus)
Tracer:
03T (D943910ZR) (included with 02R kit)
Adapter:
BD0725XXXX Lexus/Toyota Wallet Key
*Futura database covers 98% of the vehicle models available on the worldwide market.
*Dropship only. Dropship fees may apply.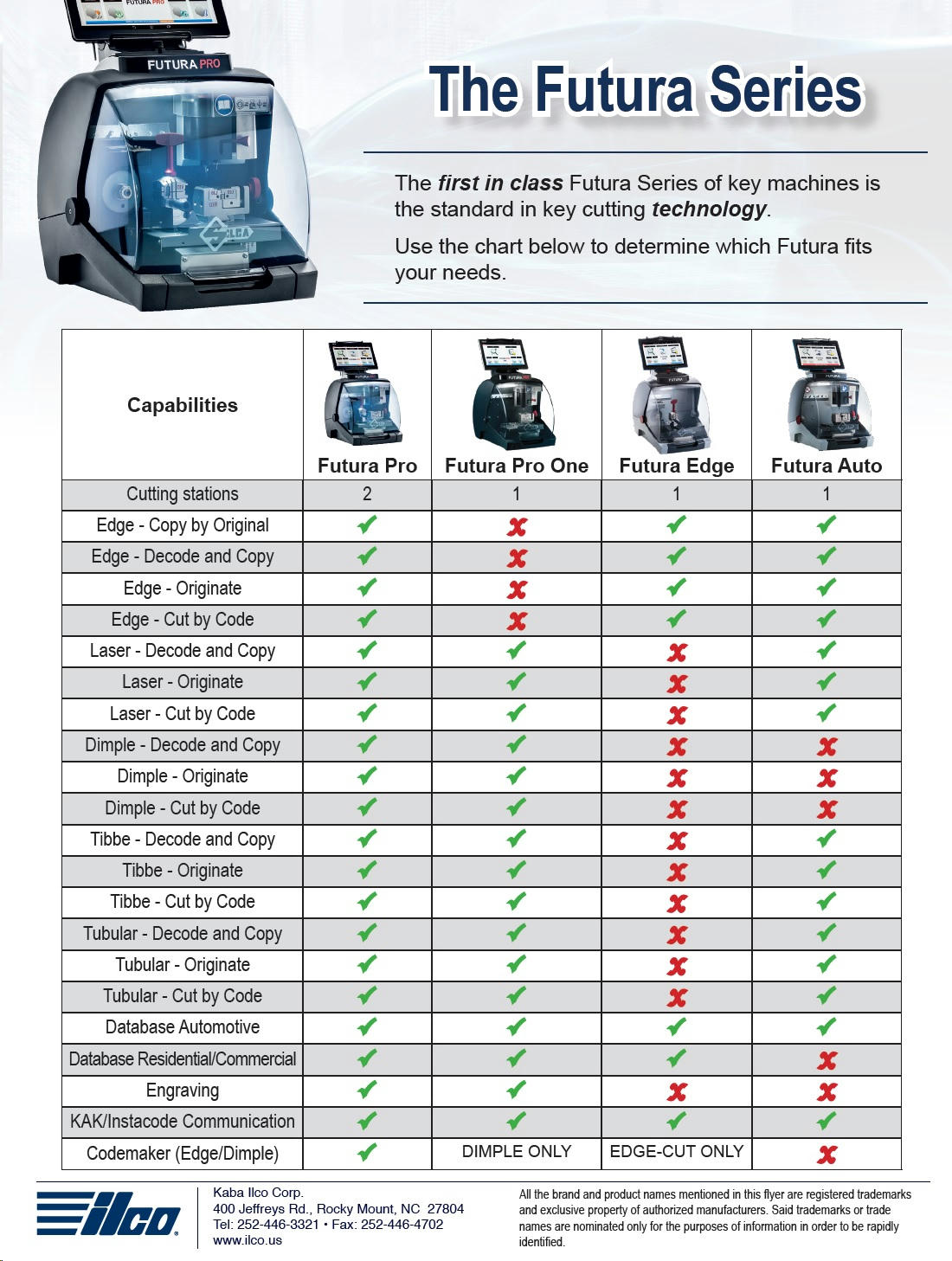 View 1 demo video

Customers Who Bought This Also Bought