The Automotive Locksmith Gadget Bag (AKS)
Description
This fashionable, yet practical carryall was designed specifically for automotive locksmiths. Sorry res/comm guys! The upper compartment holds up to twenty keys or remotes and can serve as a functional display case for Xhorse and KeyDIY universal remotes. Flip it open and let your customer choose their key, or use that space to line up all the smart keys and remotes you have scheduled to program that day. You can even use it to store all your high-dollar smart keys, so you can easily bring them in the house with you when your day is done. The bottom-most compartment is completely modular and was intended for machine storage, but you can stuff it with whatever you best see fit.
The bag also features an insulated Velcro pouch, where you can store your chargers, cables, blades, or chips. It will also provide a layer of protection for your machines when the bag is zipped close. If that wasn't enough, there's even an extra storage pouch on the backside of the bag, which is large enough to store almost anything your heart desires.
This is the first bag of its kind, meant to provide protection and storage for the various programming tablets, cloners, and remote generators that have made their way into your automotive locksmithing arsenal. Protect your investments, stay organized, and give your customers a unique experience that is typically only achieved in a brick-and-mortar environment.
Hear what top locksmiths all across the nation are saying about The Automotive Locksmith Gadget Bag!
"Of all the dedicated storage solutions that have been made specifically for automotive locksmiths, this bag is the only one." —Brandon Tucker, Expert Key Solutions
"Yes, you can use my quote but please don't add a picture of me without my permission. You literally pick the worst ones you can find, every single time." —Stephen Hoffman, Pop-A-Lock of Northern Colorado [pictured below]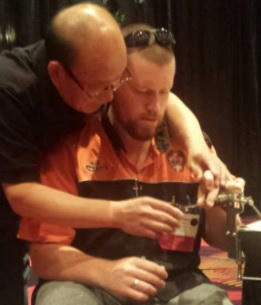 "LOL. I take it you chose that picture without consulting Hoff?" —Chris Lira, Project Manager, Lock Labs
"Yuuuuup." —Mo Ali, VP of Business and Product Development, AKS
View 1 demo video

Customers Who Bought This Also Bought