Triton Key Cutting Machine—FACTORY UPGRADED And REFURBISHED
Description
This is a REFURBISHED machine.
The Lock Labs Warranty & Repair Center (LLWRC) certified refurbished program offers the opportunity to own pre-owned machines that are held to the same standards as our brand-new product, at a discounted price. Although there may be minor blemishes, the machine is extensively screened, repaired, tested and cleaned to new product standards. The product is then repackaged with all standard accessories. A certified refurbished machine includes the standard 1 year warranty and unlimited no cost updates.
This Triton key machine has been upgraded with the new Triton Plus control board and software and can perform all functions of the newer Triton Plus key machine. It includes:
the S1 automotive key jaw
the S2 single-sided key jaw
---
The Triton by Lock Labs is an all-in-one key-cutting machine with the ability to generate & duplicate more keys than any other machine in its class. From automotive to residential, tibbe to tubular & even engraving, Triton is truly a cut above the rest.
Controlled by a 7" touchscreen, the Triton provides step-by-step guidance throughout each of its features, making it one of the easiest key cutting machines to operate. Though its core operations have been simplified, there are a host of other robust features for more seasoned users. Whether you're a novice or an old pro, the Triton's full suite of key cutting features truly offer something for everyone.
The Triton's one-of-a-kind design has been adapted to support cutting 99% of all commercially available car and motorcycle keys, including single and double-edge, high security, tibbe (6 and 8-cut) and tubular. Custom search functions include the abilities to search by vehicle model, keyway, or IC card number.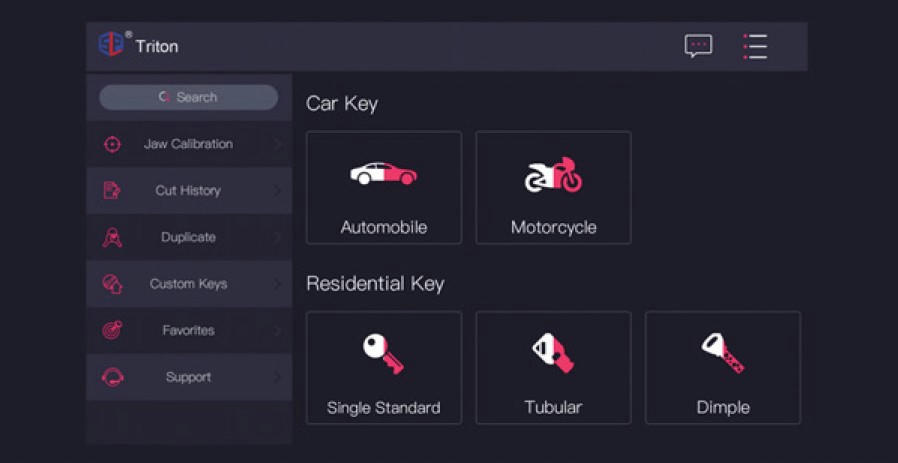 3653.7500
Aside from its superior automotive capabilities, the Triton also contains a comprehensive database of commercial & residential keys and can even generate dimple cut keys. The proprietary key code database supports key cutting by code for all supported key types so there's no need to purchase any additional code conversion software. The Triton offers an integrated fill progressioning service that will assist you in forecasting missing cut depths (via the proprietary key code database) for when you're attempting to decode and generate a key. This will most certainly help you reduce time while in the field by eliminating guesswork during impressioning.
The Triton's direct duplication feature traces and cuts unknown keyways for those rare instances you have an original key and a compatible blank but no space and depth information. The advanced key tracing feature will also account for wear on known keyways and automatically round off to meet original key specifications or cut to a perfect match if that's what you desire. You can also create custom key profiles that will allow you to input your own space and depth info and tether it to the keyway of your choice. In short, the Triton has you covered whether or not you have a key code in-hand.
Outstanding features:
A 12-volt power adapter (sold separately) that will allow you to operate the machine with nothing more than the power from your vehicle cigarette lighter.
Unlimited, free updates for the life of your machine. Machine updates occur via Wi-Fi (no need to connect to your PC).
Removable chip tray for easy clean-up without having to unmount the machine from your bench or vehicle.
Bolt down kit (sold separately) for the safe and secure mounting of your machine to the surface of your choice.
A patented 4-way jaw (included) design that is capable of handling an overwhelming majority of all automotive key cutting needs.
A fully-integrated, all-in-one design that includes onboard storage for all cutting bits and tracers.
1-year warranty which protects against all machine failures that result from flaws in manufacturing.
List of recommended & replacement accessories:
LIMITED MANUFACTURER'S WARRANTY
Lock Labs warrants the Triton key cutting machine in compliance with this certificate, in effect for 12 months from the date of purchase. In order to redeem the benefits provided to you by this warranty, this documentation must be provided in tandem with a verifiable proof of purchase, as issued by an authorized Triton distributor. This warranty covers the free repair or replacement of any parts deemed faulty as a result of imperfect manufacturing.
This warranty does NOT cover:
Damage or malfunctions caused by natural disasters or acts of God (lightning, fire, flood, earthquakes and other external causes)
Theft, misplacement, reckless, abusive, willful or intentional conduct associated with handling and use of the Triton
Faulty installation, repair, or maintenance by anyone other than a Lock Labs authorized service provider
Damage to or failure of unauthorized aftermarket upgrades or add-on accessories (This includes the electrical failure of the machine due to the usage of inferior or inefficient power inverters)
Consumer replaceable or consumable items, including but not limited to: cutting bits, tracers (decoders), T-wrenches (Allen wrenches), Allen-slotted threaded bolts, tip stop/calibration block, debris brush and AC power adapter
Extreme environmental conditions (including extreme temperature or humidity) leading to problems such as external condensation, overheating and mold
Usage outside of the permitted or intended uses, as described by the manufacturer
Malfunctions caused by improper operation by machine operator
Damage caused by insect infestation or rodents
Covered products that have been reported as lost or stolen
Any machine whose serial number has been altered, defaced or removed
Any machine whose software has been modified or altered beyond the normal scope of use
Damage that is secondary, or any damage that would be ordinarily covered under a primary insurance policy (e.g., car accident causes damage to the Triton)
Protection against any other act or result not covered by this plan
Any resultant damage to the Triton that arises from one or more conditions described above
Except for the above cases, all qualifying malfunctions are eligible for free service within the warranty period. To assure your request for service is handled efficiently, please contact Lock Labs customer service prior to sending us any product. We will issue you a Return Authorization Form that must be included when shipping your product to us. Failure to do so will result in service delays.
How to Obtain Service and Support: You may obtain service by accessing our website, tritonkeymachine.com/support, or by calling us at (888) 988-6865. Regular business hours are Monday through Friday 8am to 5pm Pacific Standard Time.
To receive service or support, you agree to comply with each of the terms listed below:
You will provide a copy of this warranty and a copy of your purchase, exchange and service receipts, if requested
You will provide, to the best of your ability, information about the symptoms and causes of your issues with the Triton
You will respond to requests for information, including but not limited to: your product serial number, version of the software installed, any peripheral devices connected or installed on the Triton key machine, any error messages displayed, the actions which were taken before the Triton experienced the issue and the steps taken to attempt resolution to the issue
You will follow instructions we give you, including but not limited to refraining from sending us products and accessories that are not subject to repair or replacement service (as listed above) and packing the Triton in accordance with the shipping instructions we will provide to you upon service agreement
You will be required to sign a service order disclaimer or other service order terms to obtain repairs or a replacement device. This service order disclaimer or other service order terms do not form a part of this warranty, and are a separate legal document
THE LIMITED MANUFACTURER'S WARRANTY IS EXPRESSLY GIVEN AND ACCEPTED IN LIEU OF ALL OTHER WARRANTIES, EXPRESS OR IMPLIED, INCLUDING, WITHOUT LIMITATION, ANY WARRANTY OF MERCHANTABILITY OR FITNESS FOR A PARTICULAR PURPOSE. TO THE EXTENT THAT THEY CANNOT BE DISCLAIMED, THE IMPLIED WARRANTIES ARE LIMITED IN DURATION TO THE LIFE OF THE EXPRESS WARRANTY. LOCK LABS SHALL HAVE NO LIABILITY FOR INCIDENTAL AND CONSEQUENTIAL DAMAGES THAT ARISE FROM THE SALE OF TRITON PRODUCTS OR ARE A RESULT OF A BREACH OF THE LIMITED MANUFACTURER'S WARRANTY REPRODUCED ABOVE. THE REMEDIES SET FORTH IN THE LIMITED MANUFACTURER'S WARRANTY ARE THE PURCHASER'S SOLE AND EXCLUSIVE REMEDIES, AND THE ENTIRE LIABILITY OF LOCK LABS FOR ANY BREACH OF THE LIMITED MANUFACTURER'S WARRANTY. SOME STATES/JURISDICTIONS DO NOT ALLOW FOR THE DISCLAIMERS, LIMITATIONS, AND EXCLUSIONS DESCRIBED ABOVE, AND AS A RESULT, THEY MAY NOT APPLY TO YOU. THIS WARRANTY GIVES YOU SPECIFIC RIGHTS, AND YOU MAY ALSO HAVE OTHER LEGAL RIGHTS WHICH MAY VARY FROM STATE TO STATE OR FROM ONE JURISDICTION TO ANOTHER. NO DISTRIBUTOR, DEALER, SALES REPRESENTATIVE NOR ANY OTHER PERSON HAS BEEN AUTHORIZED TO MAKE ANY AFFIRMATION, REPRESENTATION OR WARRANTY REGARDING THE PRODUCT, OTHER THAN THOSE CONTAINED IN THIS LIMITED MANUFACTURER'S WARRANTY, AND IF MADE, SHALL NOT BE ENFORCEABLE AGAINST LOCK LABS. LOCK LABS RESERVES THE RIGHT TO MODIFY THESE TERMS AND CONDITIONS AT ANY TIME, IT BEING UNDERSTOOD THAT SUCH MODIFICATION WILL NOT ALTER THE LIMITED MANUFACTURER'S WARRANTY CONDITIONS APPLICABLE TO THE PRODUCTS SOLD WHILE THESE TERMS AND CONDITIONS ARE IN EFFECT.